Ospite di CG Mouthpiece Italy, Walter Calafiore
Ospite di CG Mouthpiece Italy, Walter Calafiore, eccezionale altista oggi alle prese con il sax tenore
Abbiamo ospitato con molto piacere il saxofonista Walter Calafiore. Eccezionale altista oggi lo vedremo al sax tenore. Ecco un breve video in cui prova il modello Firenze camera media. Ne è rimasto entusiasta e ha voluto condividere con voi le sue impressioni!
Previous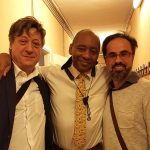 Incontrare nuovamente un artista del calibro di Branford Marsalis
Next
Realizzare una imboccatura: il materiale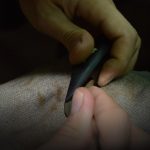 About Author
Claudio Guida graduated in Saxophone at the Conservatory of Music. He attended the Advanced Course in Jazz at the Conservatory "G. Verdi " in Milan getting a specialistic degree. He graduated also in Electronic Music still at the Milan Conservatory. He followed the masterclasses at the "C.I.F.M." in Nice (FR). He also attended the Functional Voice training masterclasses. He has collaborated with the "OFSI"Brass Orchestra of Italian Switzerland, the "Piemonte Youth Symphony Orchestra", the "Symphony Orchestra of Savona", and since 1998 with the Milano Symphony Orchestra "Giuseppe Verdi", in which he worked under the direction of renowned masters including Riccardo Chailly, Yutaka Sado, Alun Francis, Luciano Berio and Milan Turkovic, and accompanied numerous soloists. He is a member UPO Saxophone Quartet ( sax quartet University of Eastern Piemonte ) and Oblivion sax Quartet. In addition to the activities concerning classical music, Claudio Guida is primarily engaged in formations from many different musical genres , both as a freelance permanent member. 
Teacher of Saxophone, Jazz Harmony at the music school "Dedalo" in Novara, professor of Music Technology in high school. Founder, craftsman & artistic director of the brand "CG Mouthpiece Italy".