2a Edizione del Concorso Internazionale di Saxofono « Exigentia »
Recently ended the 2nd International Saxophone Competition "Exigentia". We were happy as CG Mouthpiece Italy to sponsor the contest. The Exigentia association along with the competition for young saxophonists organizes the summer camp that takes place in August in the beautiful Gessopalena (Chieti). Its territory extends in an area of rugged hills, the foothills of the Majella in central Italy.
We are also happy that our mouthpieces and accessories have rewarded these young talents!
Here are the winners:
Cat. A (soloists up to 19 years)
1st Prize: Francisco José Sanchez (SPA)
3rd Prize: Nicolò Cortesia (ITA)
Cat.B (soloists up to 30 years)
1st Prize: Antonio Sola Corpas (SPA)
2nd Prize: Giulio Di Prato (ITA)
3rd Prize: Kyoko Nemoto
Exigentia Audience Prize: Antonio Sola Corpas
An assessment of the competition we ask it to Roberto Genova, outstanding Italian saxophonist and teacher who for years has exported its art in Amsterdam:
« Participated in the competition Exigentia 2016 competitors from Italy, Japan, Spain, France and Belgium. The high musical level was evaluated by a technical committee and the public was also able to award a special prize during the final concert «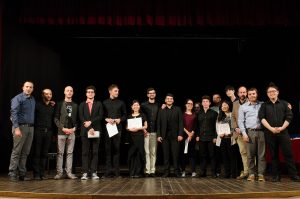 About Author