Meet again a great artist like Branford Marsalis was exciting!
Meet again a great artist like Branford Marsalis was exciting. Talk to him about mouthpieces.. Even more!
After our first meeting at the Blue Note in Milan, we met again Branford Marsalis during his concert in Milan. Guest of his outstanding quartet (Joey Calderazzo on piano, Eric Revis on bass, Justin Faulkner on drums) Kurt Elling, wonderful voice of jazz: in this project it's not just a voice, but it is a real instrument which interacts with the rest of the group. It was also great to see on stage as a surprise guest Emanuele Cisi, great italian saxophonist internationally acknowledged and long-time friend of Branford… Hearing them play together on Doxy (Sonny Rollis) was wonderful!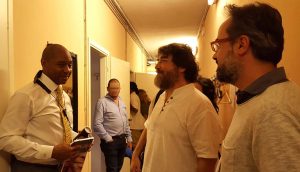 We met Branford Marsalis just after the first set, polite and friendly as always. We gave with pleasure the Infinito model was born thanks to the indications and considerations on mouthpieces of the previous meeting: create a mouthpiece without baffle, dark, full-bodied and easy to manage despite the timbric complexity.
For me and Tiziano these inputs are crucial to feed the continuous research aimed at creating mouthpieces for «real musicians», thinking to their actual needs without worrying about costs or ease of realization.
His research on the tenor sax is now directed towards a much darker sound, almost a return to basics and to the sound of the early masters of the tenor sax. A sound that does not run away but all the time they can vibrate in all its width and richness.
Upward Spiral the title of the album, as if to evoke the dynamic spiral and the emotional tension of a project that embraces different styles .. thanks Branford!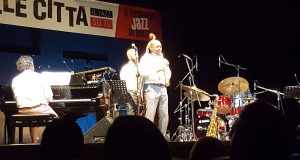 About Author